EWT Water Technology
---
Cartridge Filter
← Home • Products • Cartridge Filter ↓ Summary • Design Example •Applications • Technical Data • Downloads
Summary:
Within the scope of water treatment, filtration ist a mainly physical process for removal of suspended solids from liquids. The liquid to be filtrated flows through a filter medium, which results in the suspended solids being retained by this filter medium. A cartridge filter (in case of certain designs also: candle filter) is a vessel for filtration, with an arrangement of filter cartridges serving as filter medium. Filter cartridges are available in different designs and material, for example melt-blown cartridges made of PP or wound cartridges made of cotton.
With increasing service life, the differential pressure between the filter inlet and out increases for a given volume flow, as more solids are being retained within the filter medium. Eventually, the filter medium needs to be either backwashed or replaced.
Filter cartridges are usually replaced, certain types are within limitations also suitable for backwashing.
Design Example: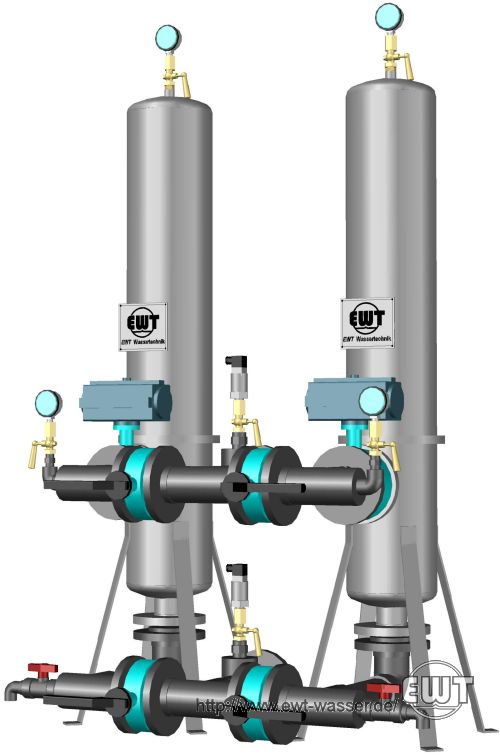 Cartridge filter plant, two lines, filter housing with several replaceable filter cartriges for each line, with differential pressure measurement and fully automated line change-over.
Applications:
Technical Data:
filtrate volume flow
available from approx. 0.5 up to 300 m³/h for each line
amount of lines
usually 1x100%, 2x100% or 2x50%
filtration grade
1 ... 100 μm, depending upon filter cartridge design
filtrate quality
turbidity
≤ 0.1 ... 1 NTU
total suspended solids (TSS)
≤ 0.5 ... 1 mg/L
differential pressure at nominal flow rate
usually ≤ 0.2 ... 1.5 bar
operating temperature
usually 5 ... 40 °C
for condensate filtration ≤ 110 °C
recommended raw water quality
total suspended solids (TSS)
< 10 mg/L
service life of the filter cartridges
working filters usually 1 ... 4 weeks
protective filters usually 3 ... 12 months
material options
pressure vessel
• polypropylene (PP)
• carbon steel (e.g. S235JR, P265GH)
• stainless steel (e.g. 1.4301, 1.4404)
filter cartridge
• polypropylene (PP)
• cotton
• polyamide fibres (Nylon)
• stainless steel (e.g. 1.4301)
• ...
pipelines
• polyvinyl chloride (PVC)
• polypropylene (PP)
• carbon steel (e.g. P235TR2, P235GH)
• stainless steel (e.g. 1.4541)
valves
• polyvinyl chloride (PVC)
• polypropylene (PP)
• brass (e.g. CW617N)
• grey cast iron (e.g. EN-JL 1040)
• stainless steel (e.g. 1.4408)
gaskets
• etyhlene propylene diene monomer rubber (EPDM)
• fluoroelastomer (FKM)
• polytetrafluorethylene (PTFE)
• NBR composite
control options
differential pressure monitoring
• local display
• remote measurement
filtrate quality monitoring
• manual sampling and analysis
• continuous turbidity measurement
line change-over
• manually
• fully automated
backwash
• manually (if backwash is possible)
• fully automated (if backwash is possible)
Downloads:
–
---
2018-05-05 • water treatment made in Germany • Company Information • Privacy